3 Days of Socializing, Learning, Connection & Play - Over 20 Expert Presenters & Amazing Performers -  Open to singles and couples but limited to capacity - Private relationship coaching available. 
Are you endlessly curious about relationships?
Do you love geekin' out on relationships as much as we do?
Well in our March '22 edition of Relatefest we totally geeked out on relationships and it was an absolute blast!
So many unforgettable memories were made. Just so much learning, healing, and FUN. Too much good!
The video reels above kinda tell the story, but as the saying goes "you just had to be there"!
Our Inaugural March edition of RelateFest was a collaboration between three community leaders, Leah Marshall of The Esther Perel Discussion Group, Christina Weber of WeDeepen, and Shai Fishman of Leveled Up Love.
This next edition of RelateFest is brought to you solely by Leveled Up Love, and we certainly intend to level things up a bit.
RelateFest is for people who love exploring relationships, questioning relationship norms, learning new skills, and connecting with others. RelateFest brings the principles of curiosity and conscious relating to a safe space for learning, connection, and play.
Our next event will feature relationship experts presenting riveting talks, holding interactive workshops, and offering optional private breakthrough coaching sessions as well as other upgrade options.
All relationship structures, orientations, and gender identities are welcome. Singles, couples, and moresomes are all welcome.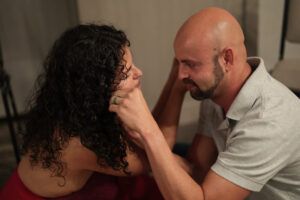 What topics will be covered?
We will explore relationship pleasure & boundaries, how to navigate conflict & jealousy, how to discover and communicate needs & desires, how to work with tantra, kink, and BDSM to heal trauma, and how to rebuild trust after betrayal.
We will also explore attachment styles and the spectrum of relationship styles ranging from monogamy to polyamory, and everything in between.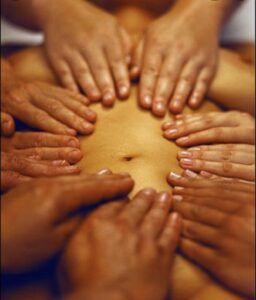 Why is this experience for you?
Because the quality of our lives is determined by the quality of our relationships. And you deserve to thrive in your relationship/s. You may have noticed some recent debates pitting monogamy vs. polyamory. We think that's the wrong discussion to have. We could instead focus on conscious relationships vs. unconscious relationships.
Conscious Relating means being conscious (aware) of each partner's core human needs (safety, significance, love, variety, growth, service). We don't believe in a one size fits all approach. It's a custom job.  Let us help you create a conscious relationship by design at RelateFest.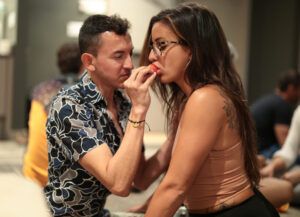 What are the deets?
We invite you to arrive on Thursday evening to settle in. Then commune with us for three full days until closing circle at 4 pm on Sunday.
We've created a safe container for this in-person event that is designed around community and hosted at both the JW Marriott Turnberry Resort & Spa and its sister hotel, the Residence Inn by Marriott, both located next to the famous Aventura Mall in Aventura, Florida.
Tickets include all the organized activities, programs, and workshops. Airfare, lodging, ground transportation, and food are not included in the registration cost.
Most of the workshops will be held at The Residence Inn by Marriott, but for more luxurious accommodations many of our past attendees chose to book right across West Country Club Drive at the JW Marriott Turnberry Resort & Spa. We recommend booking way in advance, as rooms fill fast with travel to Florida being quite active. You can always cancel the rooms at no charge.
If you're curious about romantic love and conscious relating, RelateFest is for you. We've developed a series of high-impact experiences including Tantra, attachment strategies, relationship mastery, and research-based practices based on the art and science of love. The experience includes *group coaching, community building, and entertainment to reward you for all your hard work. These experiences are all designed to get you on the path of thriving in any style of relationship you choose.
*Private coaching options for couples or singles, with our amazing team of facilitators, can be found as one upgrade option at checkout. 
Are most of your relational needs being met?

Do you desire experiences with a rich & trusted community that leaves you feeling nourished and alive?

Do you desire tools to keep your relationship sacred and safe?
Do you desire experiences that deepen your connection with your partner?

Do you believe you have room for emotional, spiritual, and erotic growth?

Are you ready to learn from top experts in these areas?
Are you ready for a conscious relationship by design and an unforgettable transformative experience?
Heal & Deepen Your Relationship
Build Your Community With Like Minded Peers
Be Wowed By Surprise Performances
Enjoy a Lovely Resort Hotel For 3 nights & 3 days With Lots of Free Time
Choose Your Own Social & Dining Experiences With Your New Fast Friends
Choose From Unique, Connective, or More Sensual Experiences for Singles and Couples Alike
The hotel is located 15.2 miles from Fort Lauderdale-Hollywood International Airport (FLL) and 19.5 Miles miles from Miami International Airport (MIA).
We ask that stay home if you are feeling sick with flu-like symptoms (including fever, cough, sore throat, or body aches) and join us for an event in the future.
Tickets are non-refundable but are transferable to another person via TicketSpice. Please contact the event staff if you need assistance. 
Dress comfortably. Some of our events and exercises will involve movement.
Arrival, Meet & Greet (8:00 pm)
Evening arrival, grab dinner, settle into your rooms & attend a casual meet n' greet.
Morning Registration & Opening Circle 
Talks & Presentations From Our Team Of Relationship Experts
This is your day to get to know our amazing team of relationship experts. We'll take dives into attachment theory, trauma healing, emotional attunement, The 5 Love Languages, The Gottman Method, and more.
 Evening Performances, Dancing & Karaoke
Experiential & Interactive Group Workshops
This is your day for deeper immersions with your favorite experts. Join these group sessions to begin addressing persistent relationship conflicts and move towards repair faster.
Private 1:1 Coaching Sessions*
*Optional upgrade for 1:1 private coaching is available between and during sessions.
The Tantric Massage Temple Night Experience*
*An optional upgrade.
On a first-come, first-serve basis, our concierge team will reach out and provide you with the secret hotel room & confidential password to enter our discreet Tantric Temple Experience.
This is a powerful opportunity to learn tantric massage for expanding pleasure and ecstasy by South Florida's Tantra Master. We'll begin with a discussion on consent and boundaries, and a real-time demonstration on both a man and a woman. Then you'll have the opportunity to choose to be a giver or receiver (or both) and practice one on one or within a group.
This will be a sensual, co-creative, exquisitely orchestrated, outrageously sexy, and orgasmic experience. Limit of 25 people in this exclusive and intimate experience.
Singles, couples, and moresomes are all welcomed.
Experiential & Interactive Group Workshops
This is your day for deeper immersions with your favorite experts. Join these group sessions to begin addressing persistent relationship conflicts and move towards repair faster.
Expert Discussion Panels + Q & A 
Our experts answer all the burning questions you may still have on our final afternoon together.
Private 1:1 Coaching Sessions* 
*Optional upgrade for 1:1 private coaching is available between and during sessions.
"It was such a sweet and healing container! What an honor it was to connect with all such beautiful hearts this past weekend!"

 

Carina
"I have several major takeaways! I learned things about myself and areas/aspects of my life that I must work on. I learned about new things that I was inspired to learn more about (shibari, bdsm, emotional attunement, attachment theory). I learned that being a c-section birth may have greatly contributed to my fearful avoidant attachment which I started learning more about and how to work with this attachment style. I realized that I must attend more RelateFest types of gatherings to continue to grow and learn from others."

 

Bhodi
"The biggest move for me was a release of some of my self-shame. It's a burden I've carried all my life and the non judgmental loving community we all formed a part of whilst brief was so rich and healing. Also it was so empowering to receive/ give warmth and connection so freely when giving/ receiving a bid for connection. And lastly the depth and genuineness of connection between people in the various ways we either have naturally or through the new methods we were introduced to (tantra was powerful for me) proved to me that despite such a disconnected world I live in, I will seek out those small amount of people that really do want deep connection wherever they might be!"

 

Paul
Frequently Asked Questions
"This experience was more transformative than I had expected. I was married to an abusive alcoholic and have been divorced for 4yrs now. I have been dating but have kept my heart so guarded from the scary negative energy. What I didn't realize was the shield I've put up wasn't allowing me to receive any positive energy from new relationships either. Being surrounded by love, and positivity from so many strangers allowed me to open my heart to the possibility that I can and deserve to receive love in positive ways. Upon returning from RelateFest, I told a few new connections that I wanted to receive flowers and to my surprise, two bouquets were delivered to me this week! 😍. Learning to ask for what I need and deserve in love is my ultimate takeaway and I can't thank you all enough for helping me open my heart once again."

 

Erin
"I'm thankful for RelateFest. I am thankful for the speakers that were genuine and not puffed up when sitting next to people (me) in the audience. I am thankful for the organizers that pushed and followed through with the dream and their vision of healing and educating relationships. I felt safe. I felt welcome. I felt seen and heard. I look forward to the next event no matter where it's at. It was not just one moment it was the entire event that was pivotal for me. Thank you for letting me share. Much love and harmony. 💫❤️🤟"

 

Natalie
"I've been to many personal development and growth events but this one impacted me in a way that has consumed my thoughts for the past two days. I guess it's because of the openness and non-judgmental environment with like-minded people. Time went by so quickly and I felt I needed more of this experience thank you for all the organizers you did an amazing job. Please do it again! I will come and bring others!"

 

Roya